Arrival Location: Jaipur International Airport or Railway Station or Bus Station
Preferred Arrival Timing: Flexible, as we're spending sufficient days/nights in each city
Day 01: Jaipur arrival and sightseeing
Upon your arrival in Jaipur, our team will be ready to greet you at the designated location. After a warm welcome, you'll be escorted to your pre-booked hotel. Take some time to relax and freshen up. In the afternoon, we'll begin the city sightseeing tour. Our first stop is the iconic Hawa Mahal, also known as the Palace of Winds, known for its intricate honeycomb-like facade. Next, we'll visit the majestic City Palace, a grand royal complex that houses beautiful gardens, courtyards, and buildings. Don't miss the opportunity to explore the City Palace Museum, which showcases a remarkable collection of artifacts. Our tour continues to Jantar Mantar, an ancient observatory featuring fascinating astronomical instruments. Indulge in a delicious lunch, savoring the flavors of local cuisine. In the late afternoon, we'll visit the Albert Hall Museum, renowned for its stunning architecture and extensive collection of artifacts. Our last stop for the day is the Birla Mandir, a captivating white marble temple dedicated to Lord Vishnu, known for its serene ambiance and exquisite architecture.
After a fulfilling day of exploration, return to the hotel for a restful night's sleep, preparing for the adventures of the next day.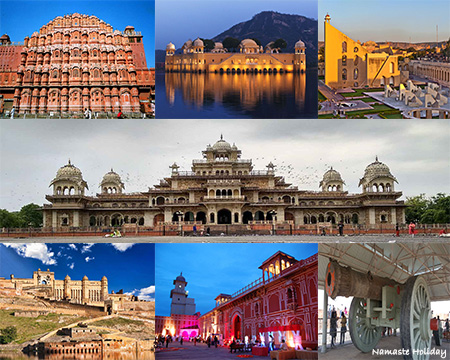 Day 02: Jaipur sightseeing
After a delightful breakfast, get ready for another day of exploring the wonders of Jaipur. We'll start with a visit to the magnificent Amer Fort (or, Amber Fort), a breathtaking fortress located on a hilltop. Enjoy an exciting elephant ride as you ascend the fort's stairs and immerse yourself in the royal ambiance. Capture memorable photos at Jal Mahal, a picturesque palace situated amidst a lake. Continue your journey to Nahargarh Fort, offering panoramic views of Jaipur. Next, we'll explore Jaigarh Fort, famous for housing the world's largest cannon. Take a break for a delicious lunch and then choose from various options for the afternoon. You can visit attractions like the Akshardham Temple, Vibrant Patrika Gate (a popular picturesque spot), or the Govind Dev Ji Temple, considered the "God of Jaipur" by locals. Alternatively, you can indulge in shopping at Jaipur's vibrant markets, offering a wide array of handicrafts, jewelry, bangles, and exquisite blue pottery.
End the day with an overnight stay at the hotel, cherishing the memories of Jaipur's rich heritage.
Day 03: Jaipur - Ranthambore (150kms/ 03hrs drive)
Time to set off for a thrilling wildlife adventure in Ranthambore!
After breakfast, gear up for an exhilarating Jungle Safari in a canter or jeep at Ranthambore National Park. Keep your eyes peeled for the majestic tigers and other exotic wildlife. You might spot a surprise on the way! You can also visit Ranthambore Fort (if time permits).
Overnight stay at the hotel.
Day 04: Ranthambore - Chittorgarh (300 kms/ 05hrs drive)
Pack your bags for a rendezvous with history at Chittorgarh! After breakfast, check-out from the hotel and drive towards Chittorgarh. Enjoy pit stops en route for refreshments and lunch. On arrival, check-in at the majestic hotel and recharge for a while. Get ready to relive the glorious tales of The mighty Chittorgarh Fort- , perched on a hilltop, holds a rich history of valor and sacrifice. This UNESCO World Heritage Site narrates tales of bravery and heroism of Rajput warriors. Notable structures within the fort include the Vijay Stambh (Victory Tower), Kirti Stambh (Tower of Fame), Rana Kumbha Palace, Padmini Palace, and the impressive Kumbha Shyam Temple.
Overnight stay at the regal hotel.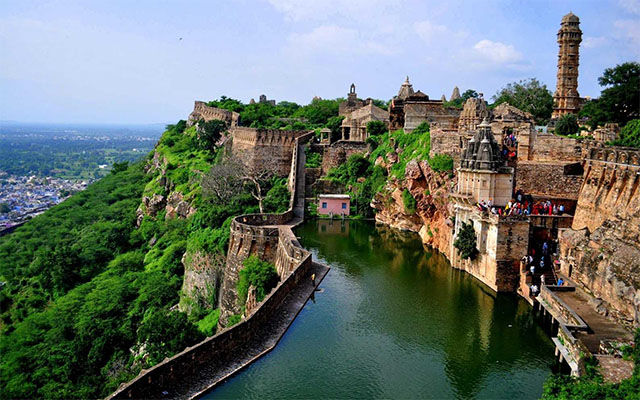 Day 05: Chittorgah - Udaipur (120 kms/ 02hrs drive)
After a delectable breakfast, embark on a journey to the romantic City of Lakes - Udaipur. On arrival, check-in at the luxurious hotel and unwind. Have some boating on Lake Pichola- around which you can enjoy the scenery of "City palace, hotel Taj Lake palace, jag mandir, Leela palace, Udaivilas" or on Fateh Sagar Lake. Jag Mandir Palace- Pay a boat ride to this wonderfully made Palace on the Lake Picholla, spend some time in visiting the Palace and have some nice moments to capture with Lake Picholla as background. Enjoy enchanting Cable Car Experience at the Karni Mata Temple (Optional). If time permits, we can cover some more attractions today otherwise we'll continue the sightseeing tomorrow.
Overnight stay at the hotel. Day 06: Udaipur Sightseeing- Soak in Elegance! Have some lavishing breakfast at the hotel, then start the sightseeing of this beautiful Lake city by visiting Jagdish temple- dedicated to Lord Vishnu; City Palace- Rajasthan's largest palace complex; Saheliyon ki Baadi( Garden of the Maidens)- is the most beautiful garden in Udaipur/Rajasthan it's attractions are fountains, marble elephants, a lotus pool and many more; Bagore Ki Haveli (Museum)- ancient mewar haveli containing numerous sub-attractions (sub-sections) like weapon museum/haveli museum/ puppet museum/ turban museum/ wedding depiction section and each having their unique points to visit. Maharana Pratap Memorial ( situated at the top of Moti Magri/Pearl hill). Enjoy the local cuisine and street food taste at Sukhadia Circle. In the evening, experience the cultural extravaganza of a traditional Rajasthani dance and music performance at the Bhartiya Lok Kala Mandal or Bagore Ki Haveli. The lively performance showcases the rich heritage of Rajasthan. Rest time is for leisure.
Overnight stay at the hotel.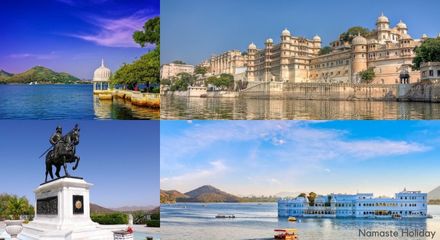 Day 07: Udaipur - Mount Abu (180 kms/ 03hrs drive)
Gear up for a refreshing hill station experience at Mount Abu! Enjoy breakfast and proceed to the only hill station in Rajasthan. Explore the exquisite Dilwara Jain Temple and bask in the peace at Om Shanti Bhawan (Universal Peace Hall). Discover the beauty of Nakki Lake and stroll through the local bazaars. The view of the sunset from sunset point is a bonus! Visit the captivating beauty of Guru Shikhar, the highest peak in the Aravalli Range, offering breathtaking panoramic views of the surrounding hills and valleys. Also, visit the Achalgarh Fort, known for its impressive architecture and historical significance. Explore the fort's intricate carvings, ancient temples, and the famous Achaleshwar Mahadev Temple.
Overnight stay at the cozy hotel.
Day 08: Mount Abu - Bishnoi Village - Jodhpur (300 kms/ 05hrs drive)
Get ready for an action-packed day! After breakfast, set forth to the magnificent Blue City - Jodhpur. En route, embrace the essence of rural Rajasthan at Bishnoi Village, where tribal life comes alive. Spot the graceful blackbuck deer and experience the village's rich traditions and customs. Engage with the Bishnoi community, renowned for their profound bond with nature and commitment to wildlife preservation. Embrace their time-honored traditions, witness skilled artisans crafting traditional works, and immerse yourself in their unique way of living. After an unforgettable day, continue towards the captivating destination of Jodhpur. On arrival, check-in at the hotel and relax. Rest time is for leisure as we start the sightseeing tomorrow. Overnight stay at the hotel.

Day 09: Jodhpur Sightseeing - Embrace Majesty
Have a lavish breakfast at the hotel and then start our Jodhpur sightseeing. Visit Mehrangarh Fort, one of the largest and most glorious forts of Rajasthan, which stands upon a 150m high hill. Explore Jaswant Thada, known as the "Taj Mahal of Marwar," which acts as a cremation site for the Royal Rajputs. Discover the grandeur of Umaid Bhawan Palace, also known as "The Chittar Palace" due to the use of Chittar sandstone in its construction. Also, don't miss a visit to Mandore Garden for a serene experience amidst lush greenery. You may have lunch in-between the sightseeing at one of the delightful restaurants recommended by our representative. In the evening, visit Clock Tower (Spice Market) and indulge in some shopping for Handicraft items, Pichwai paintings, Bandhej, and other souvenirs.
Overnight stay at the hotel.
Day 10: Jodhpur - Osian - Jaisalmer (300 kms/ 05hrs drive)
Post breakfast, drive towards Jaisalmer, also known as the Golden City. On the way, take a halt at Osian to visit Osian Mata Temple and Jain Mahavira Temple, must-visit sites when traveling from Jodhpur to Jaisalmer. After spending some time exploring the temples, continue our drive to Jaisalmer. On arrival, drive to the hotel for check-in and have some time for relaxation. In the evening, during sunset, visit Bada Bagh (Big Garden) and enjoy the view of the sun setting over the Maharaja's cenotaphs. Rest of the time is for leisure as we begin the sightseeing tomorrow. Overnight stay at the hotel.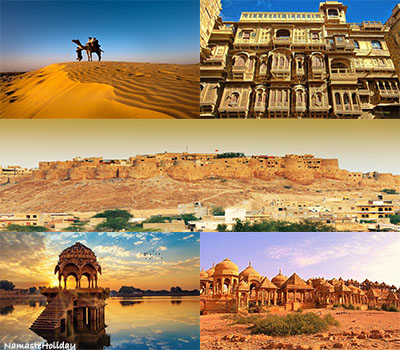 Day 11: Jaisalmer Sightseeing- Unveil The Magic
Have some toothsome breakfast at the hotel. Start the sightseeing by visiting the historic Jaisalmer Fort, which is made of unique Golden limestone, earning it the names "The Golden Fort" or "Sonar Kila/Quilla." After that, we'll visit some Havelis like Patwon-ki-Haveli, Nathmal-ki-Haveli, Salim Singh-ki-Haveli, known for their captivating architecture and unique designs. Also, visit the Gadisar Lake, a man-made lake surrounded by temples and ghats, where you can also enjoy a boat ride. After lunch, extend your joy with enchanting experiences like Camel Rides and Jeep safaris on the Sam Sand Dunes, where you'll witness a beautiful view of the desert sunset.
Overnight stay at the tent, where you'll experience Rajasthani culture with folk dance, desert beans (a special dish), and a bonfire dinner.

Day 12: Jaisalmer - Bikaner (350kms/ 06hrs drive)
After a lavish breakfast, drive towards Bikaner, a city known for its association with camels. On the way, you can take some stops for refreshments and lunch. En route, take a halt at Khichan Bird Sanctuary, a mesmerizing haven for migratory birds, especially Demoiselle Cranes. Witness the graceful flight of these beautiful birds and immerse yourself in the serene ambiance of the sanctuary. Continue your journey to Bikaner. On arrival, transfer to the hotel for check-in and take some time to relax. Discover the Bikaner Camel Breeding Farm or National Research Centre on Camel, known for its conservation efforts and camel rides.
NOTE:-This Tour Itinerary can be extended to a 14 Days Tour by taking 01 night in Pushkar while going from Bikaner to Jaipur and take departure flight at any time from Jaipur the next day.
Day 13: Bikaner Sightseeing - Pushkar - Jaipur (420kms/ 05hrs + 02hrs drive)
After a delectable breakfast, begin our heritage sightseeing of Bikaner by visiting the legendary Junagarh Fort, renowned for its awe-inspiring architecture and intricate carvings. Explore the opulent Lalgarh Palace, adorned with captivating frescoes and artistic treasures. On our way to Jaipur, visit Karni Mata Temple, famously known as the "Rat Temple." Embrace the essence of Bikaner's cultural heritage at this unique temple, where rats are considered sacred and worshipped by the devotees. If your departure flight is in the late evening then take the route to Pushkar to visit Pushkar Brahma Temple and after some spending spiritual time in Pushkar, head towards our final destination- pink city.
Savor your last meal in Rajasthan before our representatives drop you off at the airport for your onward journey.
Departure Location:- Jaipur Internation Airport or Bus Station

Preferred Departure Timing: Considering the 05hrs journey from Bikaner to Jaipur, time in visiting Pushkar Temple, 02hrs drive to Jaipur from Pushkar and taking some en-route break(s), depending upon your flight we'll depart from Bikaner accordingly for Jaipur departure. Most probably late evening departure (after 20:00)
"Tour ends here, but the memories of this extraordinary adventure will stay with you forever. Until we meet again for more thrilling escapades!"