Arrival Location: Jaipur International Airport or Railway Station or Bus Station
Preferred Arrival Timing: Flexible, as we're spending sufficient days/nights in each city
Day 01: Jaipur arrival and sightseeing
Upon your arrival in Jaipur, our team will be ready to greet you at the designated location. After a warm welcome, you'll be escorted to your pre-booked hotel. Take some time to relax and freshen up. In the afternoon, we'll begin the city sightseeing tour. Our first stop is the iconic Hawa Mahal, also known as the Palace of Winds, known for its intricate honeycomb-like facade. Next, we'll visit the majestic City Palace, a grand royal complex that houses beautiful gardens, courtyards, and buildings. Don't miss the opportunity to explore the City Palace Museum, which showcases a remarkable collection of artifacts. Our tour continues to Jantar Mantar, an ancient observatory featuring fascinating astronomical instruments. Indulge in a delicious lunch, savoring the flavors of local cuisine. In the late afternoon, we'll visit the Albert Hall Museum, renowned for its stunning architecture and extensive collection of artifacts. Our last stop for the day is the Birla Mandir, a captivating white marble temple dedicated to Lord Vishnu, known for its serene ambiance and exquisite architecture.
After a fulfilling day of exploration, return to the hotel for a restful night's sleep, preparing for the adventures of the next day.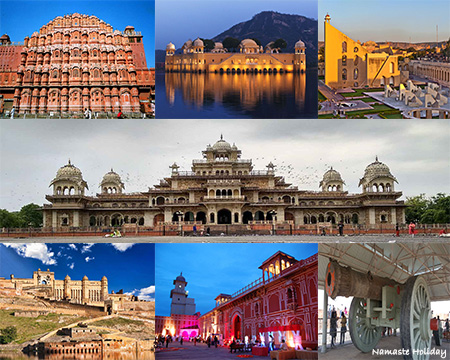 Day 02: Jaipur sightseeing
After a delightful breakfast, get ready for another day of exploring the wonders of Jaipur. We'll start with a visit to the magnificent Amer Fort (or, Amber Fort), a breathtaking fortress located on a hilltop. Enjoy an exciting elephant ride as you ascend the fort's stairs and immerse yourself in the royal ambiance. Capture memorable photos at Jal Mahal, a picturesque palace situated amidst a lake. Continue your journey to Nahargarh Fort, offering panoramic views of Jaipur. Next, we'll explore Jaigarh Fort, famous for housing the world's largest cannon. Take a break for a delicious lunch and then choose from various options for the afternoon. You can visit attractions like the Akshardham Temple, Vibrant Patrika Gate (a popular picturesque spot), or the Govind Dev Ji Temple, considered the "God of Jaipur" by locals. Alternatively, you can indulge in shopping at Jaipur's vibrant markets, offering a wide array of handicrafts, jewelry, bangles, and exquisite blue pottery.
End the day with an overnight stay at the hotel, cherishing the memories of Jaipur's rich heritage.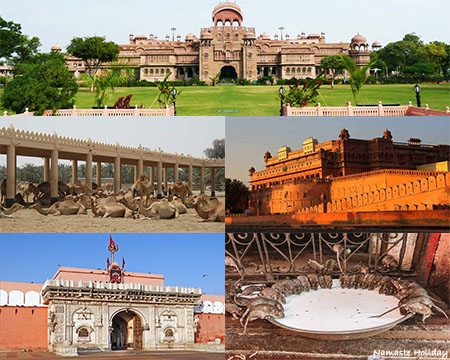 Day 03: Jaipur- Bikaner (350kms/ 06hrs)
After a hearty breakfast, we'll embark on a journey to the captivating city of Bikaner. Enjoy scenic drives with stops for refreshments and lunch along the way. Upon arrival, check-in at your hotel and take some time to relax. In the afternoon, visit the famous Karni Mata Temple located in Deshnok, near Bikaner. This unique temple is dedicated to Karni Mata, an incarnation of Goddess Durga, and is known for its population of sacred rats. Witness this intriguing sight and seek blessings. Discover the Bikaner Camel Breeding Farm or National Research Centre on Camel, known for its conservation efforts and camel rides.
Enjoy an overnight stay in Bikaner, immersing yourself in its rich cultural heritage.
Book Your Tour
Day 04: Bikaner sightseeing- Khichan Bird Sanctuary- Jaisalmer (350kms/ 06hrs)
After a delectable breakfast, begin our heritage sightseeing of Bikaner by visiting the legendary Junagarh Fort, renowned for its awe-inspiring architecture and intricate carvings. Explore the opulent Lalgarh Palace, adorned with captivating frescoes and artistic treasures. Post lunch, start our scenic drive to the Golden Sands of Jaisalmer, famously known as the "Golden City" due to its sun-kissed sandstone architecture. On our way to Jaisalmer, visit Khichan Bird Sanctuary, a must-visit attraction for wildlife enthusiasts. Marvel at the sight of migratory Demoiselle cranes, a unique experience offered exclusively by Namaste Holiday. Upon arrival, complete the check-in procedure at your hotel and take some leisure time to relax.
Immerse yourself in the enchanting ambiance of Jaisalmer, known for its golden sandstone architecture. Overnight stay at the hotel, preparing for a day of exploration.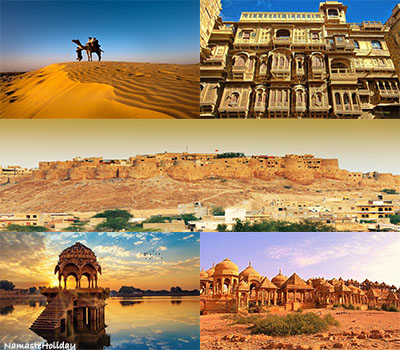 Day 05: Jaisalmer sightseeing
After a delicious breakfast, get ready to explore the architectural wonders of Jaisalmer. Begin with a visit to the majestic Jaisalmer Fort, also known as the Golden Fort. Marvel at its intricate craftsmanship, elegant Jain temples, and ornately carved havelis. Next, venture into the narrow lanes of the fort and explore Patwon Ki Haveli, Nathmal Ki Haveli, and Salim Singh Ki Haveli, each showcasing unique architectural styles and cultural heritage. Afterward, visit Gadisar Lake, a serene man-made reservoir adorned with temples and ghats, offering a picturesque setting for peaceful moments. In the afternoon, embark on an adventurous excursion to the mystical desert region of Jaisalmer. Visit the ancient Kuldhara Village, known for its fascinating legends and abandoned structures that reflect its intriguing past. Experience the awe-inspiring Sunset View at the famous Sam Sand Dunes, where the golden hues of the desert create a mesmerizing spectacle. Enjoy a thrilling camel safari and immerse yourself in the magical atmosphere of the desert.
In the evening, indulge in a cultural program featuring Rajasthani folk music and dance, followed by a delectable dinner. After a day filled with unforgettable experiences, retreat to the hotel for a comfortable overnight stay.
Day 06: Jaisalmer- Osian- Jodhpur (300kms/05hrs)
After a satisfying breakfast, it's time to bid farewell to Jaisalmer and embark on a journey to the enchanting city of Jodhpur. On the way, we'll make a stop at Osian, known for its ancient temples and historical significance. Explore the exquisite Sachiyan Mata Temple and Jain Mahaveera Temple, marveling at their architectural splendor. Afterward, continue the drive to Jodhpur, often referred to as the "Blue City." Upon arrival, complete the check-in process at your hotel and take some time to relax. Later, visit the magnificent Mehrangarh Fort, perched atop a hill, offering panoramic views of the city. Explore the fort's grand palaces, museums, and intricate details that narrate tales of the past. Explore the elegant Jaswant Thada, a white marble cenotaph showcasing intricate craftsmanship. Afterward, immerse yourself in the vibrant atmosphere of the local markets, where you can shop for textiles, handicrafts, and spices.
After a day of exploration,enjoy a comfortable overnight stay at the hotel in Jodhpur.
Day 07: Jodhpur sightseeing- Bishnoi Village- Mount Abu (300kms/ 05hrs drive)
After a flavorsome breakfast, continue your exploration of Jodhpur's architectural gems and cultural heritage. Visit the grand Umaid Bhawan Palace Museum, an opulent structure that reflects a fascinating blend of architectural styles. Explore the palace's regal interiors and discover the royal artifacts on display. Next, visit the bustling Clock Tower, where you can soak in the vibrant atmosphere and explore the local spice market. Afterward, embark on a unique cultural experience by visiting the Bishnoi Village, located on the outskirts of Jodhpur. Interact with the Bishnoi community, known for their deep connection with nature and wildlife conservation. Learn about their traditions, witness traditional crafts, and gain insights into their way of life. After a memorable day, leave Jodhpur behind and proceed towards Mount Abu.
Enjoy a comfortable overnight stay at the hotel in Mount Abu.
Book Your Tour
Day 08: Mount Abu sightseeing- Udaipur (180kms/ 03hrs drive)
Enjoy a delightful breakfast and get ready to explore the serene beauty of Mount Abu, the only hill station in Rajasthan. This picturesque destination offers a tranquil retreat from the bustling cities. Cover the prominent attractions of Mount Abu with the expertise of Namaste Holiday. Delve into the spiritual atmosphere of Dilwara Jain Temples, known for their intricate marble carvings and architectural brilliance. Admire the stunning craftsmanship and serene ambiance of these ancient temples. Visit Om Shanti Bhawan, a spiritual retreat center run by the Brahma Kumaris, where you'll get to have enriching experiences such as meditation sessions and spiritual teachings. Explore the captivating beauty of Guru Shikhar, the highest peak in the Aravalli Range, offering breathtaking panoramic views of the surrounding hills and valleys. Also, visit the Achalgarh Fort, known for its impressive architecture and historical significance. Explore the fort's intricate carvings, ancient temples, and the famous Achaleshwar Mahadev Temple. Post sightseeing, drive towards Udaipur, the City of Lakes, where Namaste Holiday representative will ensure a seamless transfer to your hotel for check-in and relaxation.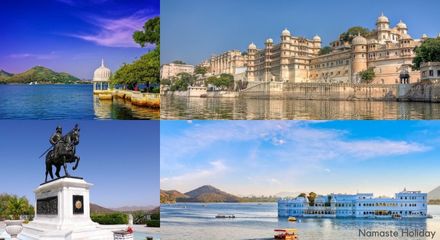 Day 09: Udaipur sightseeing
Start your day with a delightful breakfast at the hotel. Begin the sightseeing tour of Lake City with the expertise of our chauffeur and guide. Visit the majestic City Palace, the largest palace complex in Rajasthan. Explore its opulent courtyards, magnificent palaces, the impressive Crystal Gallery, and museums showcasing a rich collection of artifacts. Pay a visit to Jagdish Temple, dedicated to Lord Vishnu, and admire its intricate carvings and sculptures. Continue your exploration with a visit to Saheliyon-ki-Bari (Garden of Maidens), a serene garden adorned with fountains, kiosks, marble elephants, and delightful lotus pools. Take a leisurely walk and immerse yourself in the peaceful ambiance. Enjoy lunch at a convenient location like the famous food-point, Sukhadia Circle, rejuvenating yourself for the rest of the sightseeing. Proceed to the Maharana Pratap Memorial, situated on the Moti Mangri hill, and enjoy panoramic views of the city with Namaste Holiday Quality Service. Opt for a boat ride on either Lake Pichola or Fateh Sagar Lake, both providing enchanting experiences, while Lake Pichola provide views of prominent attractions such as Lake Palace, City Palace, Jag Mandir Island Palace, and more but it's costlier as compared to the other one. In the evening, immerse yourself in a cultural performance showcasing traditional folk dances and music at Bhartiya Lok Kala Mandal. Relax and enjoy the beautiful views of Lake Pichola during the evening hours.
Indulge in a leisurely dinner before resting for the night, preparing for the journey of the following day.
Day 10: Udaipur- Chittorgarh Fort- Bundi (265kms/05hrs drive)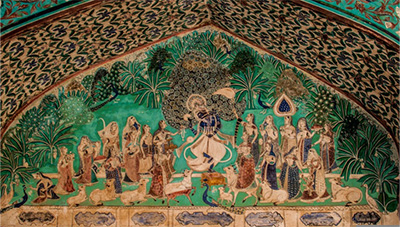 After a fulfilling breakfast, depart from Udaipur and head towards Chittorgarh Fort, a UNESCO World Heritage Site and one of the largest forts in India. Explore the grandeur of this historical fortress and immerse yourself in its rich history and tales of valor. Visit the iconic structures within the fort, including the Vijay Stambh (Tower of Victory), Kirti Stambh (Tower of Fame), and the famous Padmini Palace.
Afterward, continue your journey to Bundi, a captivating town known for its ancient palaces, step wells, and traditional Rajasthani architecture.
Upon arrival, check-in at your hotel and take some time to relax. Overnight stay in Bundi.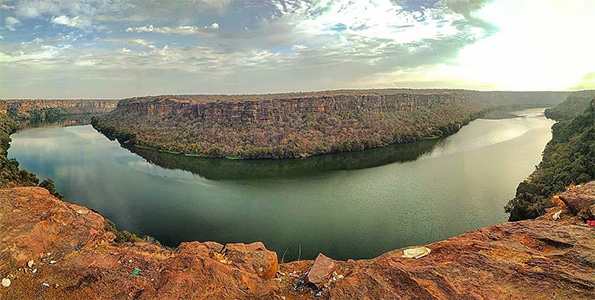 Day 11: Bundi Sightseeing- Garadia Mahadev- Bundi (90kms/ 1.5-2hrs drive)
After a delicious breakfast, embark on a sightseeing tour of Bundi's architectural wonders. Begin your exploration with a visit to the impressive Taragarh Fort, perched on a hilltop, offering breathtaking panoramic views of the town. Marvel at the intricate carvings, beautiful murals, and ancient cannons within the fort. Explore the fascinating Bundi Palace, known for its stunning frescoes, ornate balconies, and traditional Rajput architecture. Next, visit the step wells of Bundi, including the famous Raniji ki Baori/ Nagar Sagar Kund, reflecting the town's rich water heritage.
In the afternoon, take a scenic drive to Garadia Mahadev, a picturesque spot located on the banks of the Chambal River. Admire the natural beauty and serene surroundings as you soak in the tranquility of the place. Capture mesmerizing views of the river and the surrounding hills from the viewpoint. Spend some time in contemplation and immerse yourself in the spiritual ambiance of Garadia Mahadev.
Afterward, return to Bundi and explore more of the town's cultural delights. Immerse yourself in the vibrant local culture as you stroll through the bustling markets, interacting with locals, and shopping for traditional handicrafts and souvenirs.
After a day filled with exploration and cultural experiences, return to your hotel in Bundi for a comfortable overnight stay.
NOTE:-It depends on your departure flight timings from Jaipur in order for you to visit Kishangarh Marble Dumping Yard, also known as Rajasthan Ka Switzerland.
Day 12: Bundi- Pushkar- Jaipur departure (330kms/ 06hrs drive)
After breakfast, bid farewell to Bundi and embark on a journey to the sacred town of Pushkar. Explore the holy Pushkar Lake, surrounded by numerous temples and ghats. Visit the famous Brahma Temple, dedicated to Lord Brahma, one of the few temples in the world dedicated to this deity. Immerse yourself in the spiritual ambiance of the town and witness the vibrant colors and traditions of Pushkar. Afterward, begin the return journey to Jaipur.
Upon arrival, you will be transferred to your hotel for a comfortable overnight stay.
Departure Location:- Jaipur Internation Airport or Bus Station

Preferred Departure Timing: Considering the 06hrs journey, time in visiting Pushkar Temple, and taking some en-route break(s), depending upon your flight we'll depart from Bundi accordingly for Jaipur departure. Most probably evening departure (after 18:00)