Arrival Location: Jaipur International Airport or Railway Station or Bus Station
Preferred Arrival Timing: Flexible, as we're spending sufficient days/nights in each city

Day 01: Jaipur arrival and Sightseeing
Upon your arrival at Jaipur airport, our representative will warmly welcome you. You'll be transferred to your hotel for check-in. After a brief relaxation, begin your journey with a visit to Jaigarh Fort, known for its world's largest cannon. Explore Nahargarh Fort, which offers panoramic views of the city and then head to the Albert Hall museum, showcasing a splendid collection of artifacts. Take required breaks in between the sightseeing for rejuvenation. In the evening, visit the serene Birla Mandir (Temple) and marvel at its stunning architecture.
Overnight stay at the hotel.
Day 02: Jaipur Sightseeing
Start your day with a hearty breakfast at the hotel. Today's sightseeing covers the iconic Amer Fort, where you can ascend the fort on an elephant, providing a royal experience. Capture the beauty of Jal Mahal, a palace set amidst a lake. Proceed to Hawa Mahal, the Palace of Winds, known for its intricate windows. Visit the grand City Palace complex, offering a glimpse into the royal history of Jaipur. Explore the Jantar Mantar observatory, a UNESCO World Heritage site, showcasing ancient astronomical instruments. Later, explore the vibrant markets of Jaipur, known for handicrafts, textiles, and jewelry.
Overnight stay at the hotel.
Day 03: Jaipur - Samode (50Kms/ 45mins)
After breakfast, drive to Samode. Discover the romantic Samode Palace Museum, renowned for its intricate architecture and captivating wall paintings depicting flora, fauna, and royalty. Enjoy a camel ride and a hot air balloon ride, followed by an excursion to Samode Village, offering insights into rural Indian life, traditional crafts, and customs.
Return to the hotel for overnight stay.

Day 04: Samode - Nawalgarh - Mandawa (150kms/ 03hrs)
Embark on a journey to Mandawa, a town famed for its exquisite havelis adorned with intricate frescoes. Explore narrow lanes, admire artistic murals, and experience Shekhawati's unique architectural heritage.
After breakfast and hotel check-out in Jaipur, begin your inter-city journey to Mandawa. Although shorter than typical Rajasthan tours, the drive will take you to the Land of Havelis and Heritage. Arriving around noon, check-in to your Mandawa hotel and settle in. Your afternoon excursion takes you to Mandawa Fort and renowned havelis like Poddar Haveli, Goenka Haveli, Murmuria Haveli, Jhunjhunwala Haveli, Newatia Haveli, and more, showcasing Rajasthan's art and heritage. Each of these havelis stands as a canvas, beautifully adorned with unique artistry and paintings that narrate tales of a bygone era.
After a day of immersion into Mandawa's heritage, you'll return to your hotel for a restful overnight stay.
Day 05: Mandawa - Fatehpur - Bikaner (200kms/ 04hrs)
Awake to a new day and indulge in a delightful breakfast that prepares you for the exciting journey ahead. Cover the remaining Havelis if left otherwise drive for Bikaner. The road beckons, and the scenic landscapes promise a captivating journey. With stops for refreshments and lunch, we ensure your travel experience is comfortable and enjoyable. Upon your arrival in Bikaner, a warm welcome awaits you at your chosen hotel. Take the opportunity to relax and unwind from your journey. visit the intriguing Karni Mata Temple situated in Deshnok, near Bikaner. This temple holds a distinct place in Rajasthan's cultural tapestry, with its population of revered rats that are believed to be embodiments of divine spirits. This unusual sight will surely leave a lasting impression. Seek blessings and witness this unique sight. Our journey continues as we explore the Bikaner Camel Breeding Farm, also known as the National Research Centre on Camel. Here, you'll witness the dedication to conservation and the efforts to protect this majestic desert creature.
The evening finds you back at your hotel, where you can reflect on the day's experiences and relax in anticipation of the adventures that await.
Day 06: Bikaner Sightseeing - Khimasar (170kms/ 03-04hrs) : The Rural Rajasthan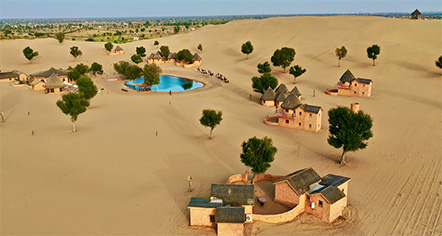 Rise to a new dawn in Bikaner, ready to immerse yourself in its vibrant sights and attractions. The day's itinerary promises to unveil the city's prominent landmarks and cultural treasures. After a sumptuous breakfast, your exploration of Bikaner begins. The first stop is Junagarh Fort, an imposing structure that showcases the architectural grandeur of Rajasthan. This fort is a treasure trove of history, art, and culture, with its numerous palaces, pavilions, and intricate designs. Next, we proceed to Lalgarh Palace Museum, an architectural masterpiece that offers a glimpse into the opulent lifestyle of the Maharajas. The exquisite artifacts and historical exhibits paint a vivid picture of Bikaner's royal heritage.
After a rejuvenating lunch , start our journey towards Khimsar. En-route visit Nagaur Fort- visit and explore the fort then after lunch at ranvas, continue our drive towards Khimsar. On arrival, transfer to the hotel for check-in and have some time for relaxation. Enjoy the sand dunes of the Khimsar village and the Jeep safari on these. Later in the evening, rejuvenate yourself by relaxing on the sand dunes while seeing the mesmerizing view of sunset. Overnight stay at the hotel.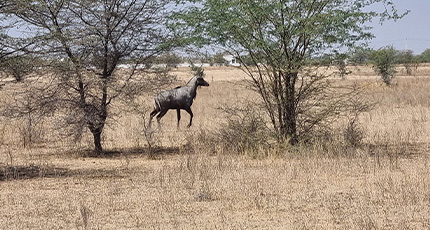 Day 07: Khimsar - Khichan - Jaisalmer (300kms /05hrs)
After breakfast, check-out from the Khimsar Fort hotel, and if you want to then you can go on to experience a short excursion to Panchala Blackbuck Reserve to spot rural animals such as Chinkara, Blackbuck, and Bluebull. After that we set out on a picturesque drive that takes us through the heart of Rajasthan's landscapes. Along the way, we pause at Khichan, a must-visit en-route between Bikaner and Jaisalmer for wildlife enthusiasts and nature lovers. Here, you'll witness the graceful spectacle of Demoiselle cranes on their migratory journey, a sight that exemplifies the region's natural beauty. As you continue your journey, the horizon transforms, and the golden sands of Jaisalmer greet you. Upon arrival, your chosen hotel extends a warm welcome, inviting you to settle in and relax.
Overnight stay at the hotel as we mark this day off for the next day full of sightseeing.
Book Your Tour
Day 08: Jaisalmer Sightseeing
A new day begins with the promise of Jaisalmer's golden wonders awaiting your exploration. After a scrumptious breakfast, your journey through the city's architectural marvels commences. The day's highlight is undoubtedly the iconic Jaisalmer Fort (Golden Fort or Sonar Qilla), a golden fortress that stands as a testament to Rajasthan's grandeur. As you wander through its labyrinthine lanes, you'll uncover the stories etched into its sandstone walls and intricate carvings. The adventure continues as you visit Patwon Ki Haveli, Nathmal Ki Haveli, and Salim Singh Ki Haveli, each a masterpiece of design and artistry. The golden hues of the architecture echo the warmth of Rajasthan's culture and history. Your journey then takes you to Gadisar Lake, a serene oasis adorned with temples and ghats, where the waters reflect the city's ethereal charm. The afternoon ushers in a thrilling excursion to the mystical sand dunes of Sam, where you'll experience a camel safari that carries you through the endless expanse of the Thar Desert. You can also visit Kuldhara Village- an old abandoned village with a dark history, quite famous with movies and stories made on it. As the sun sets over the dunes, the landscape transforms into a canvas of golden hues, and you witness a sunset that's as enchanting as it is mesmerizing.
The evening brings with it the vibrant spirit of Rajasthan, as you partake in a cultural program featuring Rajasthani folk music and dance, followed by a delightful dinner that captures the essence of the region's culinary delights.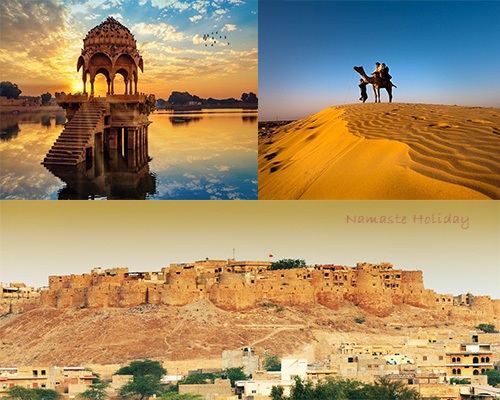 Day 09: Jaisalmer - Osian - Jodhpur (300kms/ 05rhs)
Today marks the transition from Jaisalmer to the enchanting city of Jodhpur. En route, we'll pause at Osian, famed for its ancient temples and historical significance. Explore the exquisite Sachiyan Mata Temple and Jain Mahaveera Temple, marveling at their architectural splendor. Continuing our journey, we reach Jodhpur, often referred to as the "Blue City." Upon arrival, complete the check-in procedure at your hotel and take time to relax.
Given that it's already late in the day, we recommend you rest today, as we have an entire day dedicated to sightseeing planned for tomorrow. Day 10: Jodhpur Sightseeing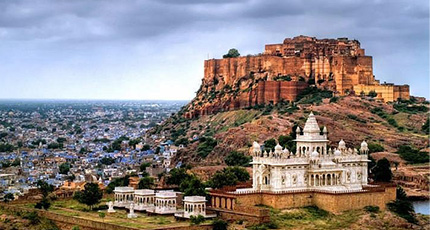 Indulge in a lavish breakfast at the hotel before embarking on a full day of exploring the magnificence of Jodhpur. Our journey begins with a visit to the imposing Mehrangarh Fort, an architectural marvel that stands atop a 150m high hill. Roam its sprawling grounds and discover its historical significance. The next attraction is Jaswant Thada, often referred to as the "Taj Mahal of Marwar," serving as a cremation site for the Royal Rajputs. Experience the grandeur of Umaid Bhawan Palace, also known as "The Chittar Palace," due to its use of Chittar sandstone in construction. Don't miss a visit to Mandore Garden, offering a serene escape amidst lush greenery. You'll have the opportunity to enjoy lunch at one of the delightful restaurants recommended by our representative. In the evening, explore the Clock Tower (Spice Market) and indulge in shopping for handicraft items, Pichwai paintings, Bandhej textiles, and other exquisite souvenirs.
Conclude the day with an overnight stay at the hotel, savoring the experiences of Jodhpur.
Day 11: Jodhpur - Bishnoi Village - Mount Abu (300kms/ 05hrs)
After savoring a flavorsome breakfast, get your luggage packed and loaded into your assigned vehicle as our journey now takes us on a unique cultural experience. Visit the Bishnoi Village, situated on the outskirts of Jodhpur. Engage with the Bishnoi community known for their deep connection with nature and wildlife conservation. Learn about their traditions, witness traditional crafts, and gain insights into their way of life. Following this memorable encounter, depart from Jodhpur and proceed towards the serene hill station of Mount Abu. In the evening, enjoy the mesmerizing views of the Aravalli Range from Sun-set Point or Honeymoon Point.
Relax and prepare for a comfortable overnight stay at the hotel in Mount Abu.
Day 12: Mount Abu Sightseeing
Begin the day with a sumptuous breakfast at the hotel before delving into the serene beauty of Mount Abu, the only hill station in Rajasthan. This picturesque destination offers a tranquil retreat from the bustling cities. Explore prominent attractions such as the intricately carved Dilwara Jain Temples, known for their marble craftsmanship and architectural brilliance. Experience the serene ambiance of Om Shanti Bhawan (Universal Peace Hall), a spiritual retreat center operated by the Brahma Kumaris, offering meditation sessions and spiritual teachings. Continue your exploration with a visit to Guru Shikhar, the highest peak in the Aravalli Range, providing breathtaking panoramic views of the surrounding hills and valleys. Visit the Achalgarh Fort, famous for its impressive architecture and historical relevance. Explore the fort's intricate carvings, ancient temples, and the renowned Achaleshwar Mahadev Temple. /*During the sightseeing, you'll have lots of moments of the surrounding aravalli range and hill station views to capture */ In the evening, enjoy boat riding on nakki lake (Toad Rock on a hill near the lake). Later stroll through the local bazaars up-to-the sunset point from where you can enjoy a wonderful view of the setting sun.
Overnight stay at the hotel.
Book Your Tour
Day 13: Mount Abu - Kumbhalgarh (150kms/ 03hrs)
/*During our drive to Kumbhalgarh, If you want to then you can also visit Ranakpur Jain Temple (11:00-17:00)*/
After a healthy breakfast at the hote, mark adieu to the hotel by completing the check-out process. Enjoy the scenic aravali views as we drive towards Kumbhalgarh. On arrival, transfer to your pre-booked hotel for your Kumbhalgarh stay. After a brief rest, we set out to visit the world famous Kumbhalgarh Fort- The Great Wall of India as it has the world's 2nd largest wall after China's Great Wall, visit the sub-attractions while climbing and visiting the fort such as Neelkanth Mahadev Temple and Badal Mahal. After visiting the fort, come back to the hotel for rest.
As the day draws to a close, you'll find yourself back at your hotel, reflecting on the cultural tapestry and historical grandeur of Kumbalgarh.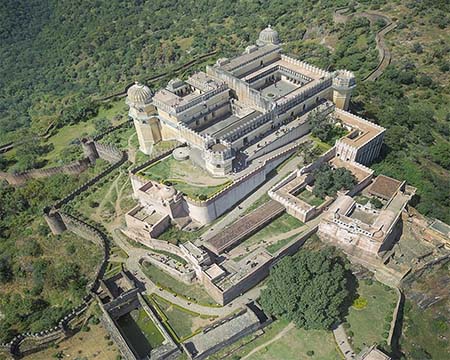 Day 14: Kumbhalgarh - Udaipur (100kms/ 02hrs drive)
/*En-route to Udaipur from Kumbhalgarh, you can visit Srinath Ji Temple/ Statue Of Belief/ EklingJi Temple (If you want to) depending upon the timings*/
As the sun rises on a new day, it heralds a journey to the enchanting city of Udaipur. Depending upon your choice, Cover the en-route attractions. Upon arrival, you'll check in at your hotel and enjoy a moment of relaxation.
Day 15: Udaipur Sightseeing
Have a delightful breakfast at the hotel before beginning your Udaipur exploration. Start by visiting the Jagdish Temple, a dedicated shrine to Lord Vishnu. Continue to the majestic City Palace, a sprawling complex that stands as Rajasthan's largest palace. Explore the enchanting Saheliyon ki Baadi (Garden of the Maidens), boasting fountains, marble elephants, a lotus pool, and more. Don't miss a visit to the Bagore Ki Haveli (Museum), an ancient Mewar haveli hosting various sub-attractions like weapon museum, haveli museum, puppet museum, and others, each showcasing unique artifacts. Marvel at the Maharana Pratap Memorial situated atop Moti Magri/Pearl Hill. Treat your taste buds with local cuisine and street food at Sukhadia Circle. In the evening, immerse yourself in the cultural extravaganza of traditional Rajasthani dance and music at Bhartiya Lok Kala Mandal or Bagore Ki Haveli. These performances vividly portray Rajasthan's rich heritage. The rest of the day is for leisure.
Overnight stay at the hotel.
Day 16: Udaipur - Chittorgarh - Bundi (300kms/ 05hrs)
After a satisfying breakfast, bid adieu to Udaipur and head to the legendary Chittorgarh Fort, a UNESCO World Heritage Site and one of India's largest forts. Immerse yourself in its grandeur, history, and tales of valor. Explore iconic structures like Vijay Stambh (Tower of Victory), Kirti Stambh (Tower of Fame), and the renowned Padmini Palace. Your journey continues to Bundi, a captivating town renowned for its ancient palaces, step wells, and traditional Rajasthani architecture. Upon arrival, check in to your hotel and enjoy a leisurely evening. Explore attractions like Bundi Palace famous for its murals and Chitrashalas, Taragarh Fort, and Rani Ji Ki Baori.
An overnight stay in Bundi promises to envelop you in its unique charm.

Day 17: Bundi - Garadia - Ranthambore (200kms + 100kms/ 04hrs + 02hrs)
After a hearty breakfast, check out from the hotel and drive to Kota to visit the Garadia Mahadev Temple. Marvel at the beauty of the Chambal River and the surrounding hills as you pay a visit to the hill and temple. Continue your journey to Ranthambore. Upon arrival, check in to your resort or hotel for relaxation. You can also opt to visit the Ranthambore Fort and Trinetra Ganesh Temple within the fort. Immerse yourself in the serene natural surroundings.
An overnight stay at the resort or hotel.
Day 18: Ranthambore - Pushkar (300kms /05hrs)
Enjoy an early morning "Jungle Safari" at Ranthambore National Park (6:00- 9:30 AM). After returning to the hotel for breakfast, check out and drive towards Pushkar. Take some stops during the journey for refreshments, lunch, or other reasons. On arrival, check in to your hotel for relaxation.
Vist The Pushkar Brahma Temple, built in the 14th century with stone and marble, being the only temple of Lord Brahma in Pushkar. Enjoy lunch at your preferred place. Later, take a stroll around the Pushkar Lake, witnessing devotees taking a holy dip to cleanse their sins in the holiest lake of India.
Return to the hotel for an overnight stay.
Day 19: Pushkar - Kishangarh - Sambhar Lake - Jaipur (190kms/ 03-04hrs drive)
After taking blessings at the temple and breakfast, check out from the hotel to drive back towards Jaipur. On our way to the Pink City, you can visit en-route attractions such as Kishangarh's Marble Dumping Yard (Rajasthan Ka Switzerland) and Sambhar Lake. With required breaks in-between, we'll ensure a hassle-free journey. On arrival, transfer to the airport for your onward journey.
With hearts full of memories and a tapestry of experiences woven into your soul, your remarkable journey through Rajasthan comes to a close. As you depart, the echoes of the vibrant culture, historical grandeur, and architectural marvels will remain with you, inviting you to return and explore further the wonders of this enchanting land.
Departure Location:- Jaipur Internation Airport or Bus Station

Preferred Departure Timing: Considering the 04hrs journey, time in visiting Kishangarh and Sambhar Lake, and taking some en-route break(s), depending upon your flight we'll depart from Ranthambore accordingly for Jaipur departure. Most probably late evening departure (after 19:00)