05 Nights/06 Days

Golden Triangle Tour Packages
Duration of Golden Triangle Tour : 05 Nights/06 Days
Destinations of Golden Triangle Tour : Delhi - Agra - Jaipur
Day 01 : Abroad / New Delhi
Arrive New Delhi International airport.
On arrival, the guest will be met by our representative and transferred to hotel. Upon arrival at hotel the guests will be provided with the traditional Indian welcome consisting of aarti-tikka and garlands.
Overnight at hotel.
Day 02 : New Delhi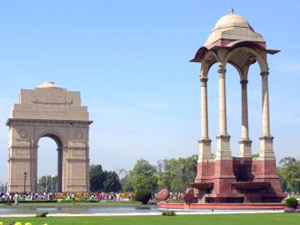 Enjoy a tour of historic and modern Delhi. Full Day of the sighting, Visit Raj Ghat and Shanti Vana - the cremation sites of Mahatma Gandhi and Jawaharlal Nehru, Jama Masjid and drive past Red Fort and Chandni Chowk.
Afternoon visit Qutub Minar built by Qutub-ud-Din Aibek in 1199, Humayun's Tomb, India Gate (War Memorial Arch ), Lakshminarayan Temple - a modern Hindu Temple. Also drive past President's House, Parliament House, Government Secretariat Buildings & Connaught Place shopping centre.
Overnight stay in Hotel.
Day 03 : Delhi - Agra
Morning drive tour of Agra. and evening check in hotel and evening Visit the famous Taj Mahal built by Mughal Emperor Shahjehan in 1630 for his Queen Mumtaz Mahal to enshrine her mortal remains.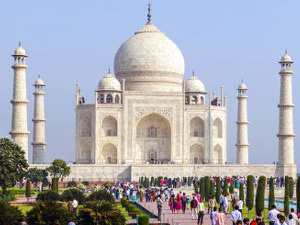 Taj Mahal : Described as the most extravagant monument ever built for love, it was constructed by Mughal emperor Shah Jahan as a memorial to his queen Mumtaz Mahal, made out of white marble took 22 years to complete (1630-1652 AD). Ustad Ahamad Lahori, a Persian Architect, is said to be the main designer and planner for this magnificent memorial. On full moon nights, the glory of the Taj is at its best. Over the centuries, the Taj has attracted more visitors than perhaps any other Monuments in the country, and it is all too easy resort to conventional superlatives when describing it. What makes the Taj Unique is its perfect proportions, distinct femininity, medium of construction and ornamentation. Its marble exterior reflects rose and golden tints at sunrise and sunset, while it is dazzling white during the day and glowes pearl-like in the moonlight and during the monsoon. Standing on a high plinth, the Taj Mahal is visible for miles around and forms a backdrop to mustard fields and mud-walled villages. It can be seen from guestrooms at some of Agra's hotels, as well as from the landscaped gardens to the west of the complex.
Agra Fort : Agra Fort on the bank of the Yamuna River was begun by Emperor Akbar in 1565, though additions were made up until the rule of his grandson, Shah Jahan. In Akbar's time the fort was principally a military structure, but during Shah Jaha regin it had partially become Palace. It is an imposing strcture with walls of red sandstone almost three kilometers long. Entered through the Amar Singh Gate, the eastern part of the fort contain palace, audience hall and mosques built by three emperors. The fort presents a good sampling of their favored architectural styles. Akbar drew on Islamic and Hindu traditions and the result is eclectic.
Overnight Stay in Hotel (Agra)
Day 04 : Agra- Jaipur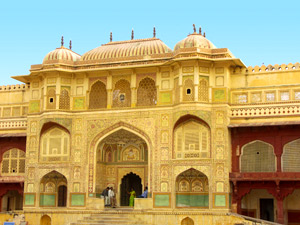 After Breakfast visit the Agra Fort containing the Pearl Mosque, the Halls of Public and Private Audience. Also visit the Tomb of Itmad-ud-Daullah built by Empress Noorjehan in memory of her father and after lunch drive to jaipur, evening check in Hotel and Overnight stay at Hotel.
Day 05 : Jaipur
Morning visit Amber Fort. Amber Fort was the ancient capital of the State. Visit the Sheesh Mahal or the Hall of Victory glittering with mirrors. Ascend the Fort on Elephant back.
Afternoon tour of Jaipur. Jaipur - the capital of Rajasthan was given a colour coat of pink a century ago in honour of a visiting Prince and ever since, it has retained this colour. Built by Maharaja Jai Singh, the notable astronomer, this city is 260 years old. Visit Maharaja's City Palace, the Observatory & Ram Niwas Gardens. Drive past Hawa Mahal & through the pink rose residential & business areas.
Late evening back to Hotel. (Jaipur)
Day : 06 Jaipur - Delhi
After Breakfast some shopping and afternoon drive to Delhi. evening transfer to the International airport for onward flight