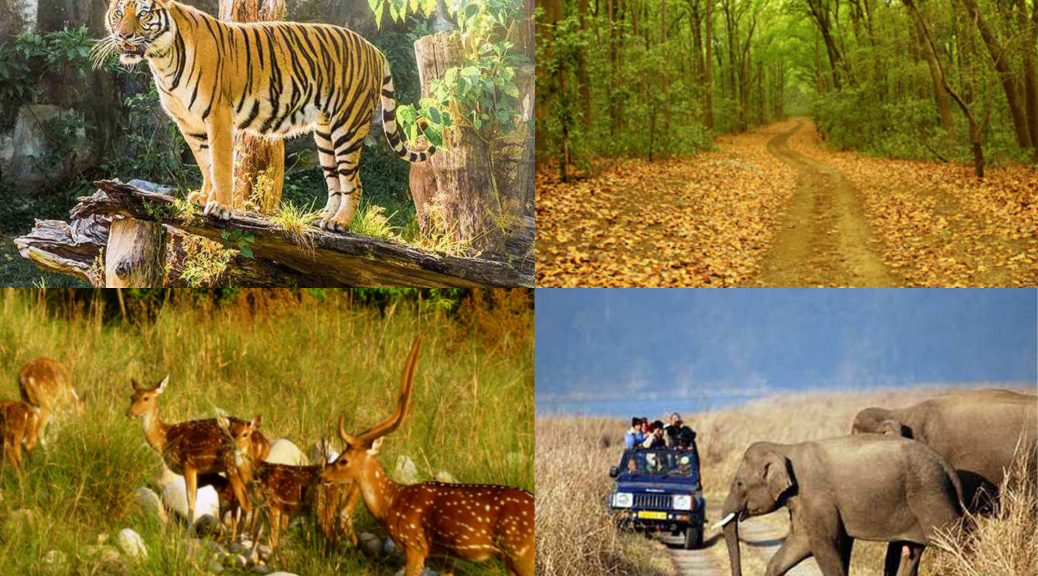 famous wildlife parks to visit in India
famous wildlife parks to visit in India
Here are some of the famous wildlife Parks to visit in India:-
Ranthambore, Gir, Sariska,Jim corbett, Kanha, Bandavgarh, Panna
Famous wildlife parks to visit:-
*/All these parks are from different regions so don't worry you can add whichever park you like to visit to your tour itinerary like Ranthambore for Rajasthan tour and Bandavgarh/Panna for North India tour. */
1.)Ranthambore National park:- to start of this list we'll first begin with the Tiger city.
Ranthambore is famous for it's vast population of tigers that's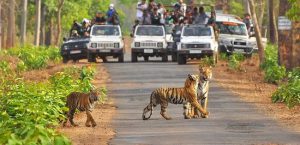 why it is also included in the list of 'Top 10 tiger reserves in India'. It is situated in Sawai Madhopur district of Rajasthan and also known as 'Tiger city', the reason being stated above.
You will have Jungle safari 2 times a day i.e,  Morning and afternoon so there will be a very good chance of yours seeing a tiger(s).
You can do your safari either by a Canter(with a group of people) or by a Jeepsy(can be hired for personal sightseeing otherwise with a small group of 5-6 persons).
Not only that it is also well enriched with flora and fauna , lush green grasslands and beautiful lakes. Other animals to visit/see in Ranthambore are:-Â Chinkara, Sambar beer, Jackal, bear, crocodile and many more as you go on exploring both on net as well as in real.
So i can assure you that you agree with me in including Ranthambore in this list of 'famous wildlife parks to visit'
Apart from Jungle safari you can also visit Ranthambore fort, Trinetra Ganesh ji temple.
For more detailed information please visit our website's page:-Â  Â  Â  Â http://namasteholiday.com/ranthambore-national-park.html
2.)Jim corbett National park-Â is one of the oldest National(wildlife) parks of India.
Situated in the Nanital district of Uttarakhand, Jim corbett park is also blessed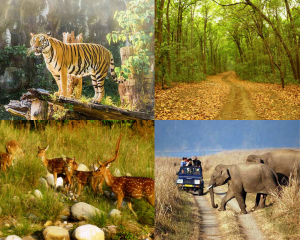 with a huge variety of flora and fauna, mountains/ranges, grasslands, rivers, marshes, forests and also swamps. It is widely famous as a home to the Royal Bengal tiger.
Apart from that when you'll do safari you would witness the beauty of this park powered by the enrichment of both it's Flora and fauna. Same rule and procedure of safari applies to all the national parks so don't worry about that. Here you can enjoy both the Elephant Safari as well as Jeep Safari.
You can also have the sightseeing of Corbett Museum. Animals to visit in this park are:- Royal bengal tigers, Deers(Sambhar, India hog, cheetal, etc.), Beers(Black, Sloath), Elephants and many more.
Interested then, http://namasteholiday.com/jim-corbett-national-park.html
3.)Kanha National park:- is well known for being the most organized/managed national parks in the Asian region. Like the above two parks, it is also one of the best tiger reserves in the country.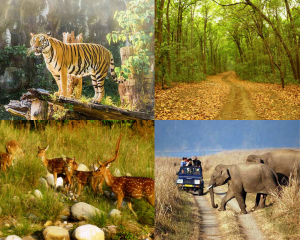 This park was created with a sole purpose of saving the under extinction specie of deer 'Barahsingha'(Swamp deer) so as a result of which this specie forms a substantial/significant population of this national park. It is like home to Barasingha, Cheetal, Sambhar, Sloath beers, Langurs and many more.
http://namasteholiday.com/kanha-national-park.html
4.)Bandavgarh national park:- located in the umaria district of Madhya Pradesh, this land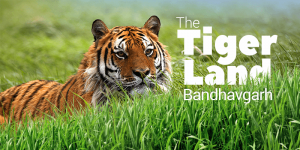 stands out to be the number one in       spotting/seeing tigers in the entire world as this park proudly boast to sustain large number of tigers. So if you are really a tiger fan want to have it's sightseeing then Bandavgarh is for you.
Other than tigers you could see Leopards, various species of deers and many more.
For more information:-Â  Â  Â  http://namasteholiday.com/bandhavgarh-national-park.html
5.)Panna national park:- is also one of the tiger reserves of India.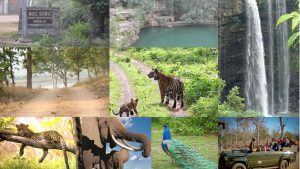 It is located in between the two districts Panna and Chatrapur of Madhya Pradesh. Apart from being one of the best tiger reserves of India, it is also home to the animals like Leopard, Cheetal, Chinkara, Nilgai, Sambhar, Sloath beer. 
Well to complete it's fauna part, it also comprises of many a species of birds: bar-headed goose, Indian vulture, King vulture, changeable hawk-eagle, and many more.